With Valentine's Day just recently passing, I'd like to talk a little bit about the current economics of our society in terms of dating. Like, how did we get here? From noticing someone across the bar also noticing you, to swiping left or right on Tinder, our generation for dating has completely changed from just a few decades ago.  My grandparents were matched together by their parents, my biological father courted my mother with hand-written letters, and today's culture consists of "sliding into DM's." Let's start with the economics of February 14th.
Valentine's Day 2019
The National Retail Association reports that a low of only 51% of people celebrated the holiday for 2019, down from the previous low of 55% last year. The recent high was 63% in 2007. However, on average, people in America are spending more, with an estimated $162 per person, with a record-setting estimated $20.7B total.
The most popular purchase was candy (52%), followed by greeting cards (44%), evenings out (34%), flowers (35%), and, for those that can afford it, jewelry (18%).
The least popular gifts are also considered the least romantic. Only 18 percent buy clothing ($2.1 billion) and just 15 percent buy gift cards, paying $1.3 billion. Seriously though, don't give gift cards for Valentine's gift… It's really the thought that counts, which is why it also seems the two most popular gifts are also the cheapest.
It might also come to no surprise that over half of the shopping was done electronically, the majority on a smartphone.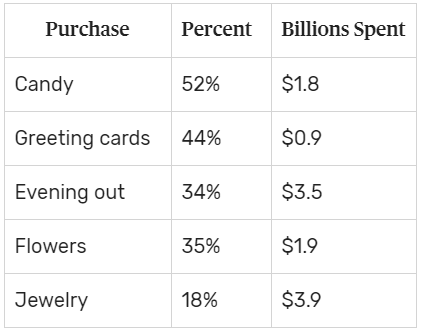 Tinder and Online Dating
It's no debate that the internet and technology have completed revamped the way we date. Tinder, (owned by Match.com), is a behemoth dating app with over 3.8 million paying subscribers. Apps like Bumble and China's TanTan also compete in the swiping mechanism of dating. Dating businesses are popping up everywhere, even for specific demographics, such as East Meets West and Coffee & Bagel for the Asian demographics, and Grindr for the gay community. And Facebook announced last year they were working on a Facebook Dating function, which is still currently in test phases for select markets. This graph from The Economist shows just how people meet has completed changed:
A key point to emphasize is the statistics for same-sex couples, with more than 70% meeting online, either for casual or more-than-casual relationships. The advance of the internet, and dating apps like Tinder, Bumble, and Grindr, which allows the individual to essentially filter out who you are eligible (or prefer) to date, has made dating much easier for the homosexual community. Most dating apps & sites give you the option to select preferences for your potential significant other. Honestly, meeting someone to date as a straight person seems difficult enough (I haven't had any success), so I can't imagine how much more difficult it might be for same-sex couples prior to the internet when the pool of people is statistically smaller. Gone are the days in spending Friday nights at gay bars?
Although there is often a stigma behind online dating, there is one indisputable fact: people who meet through online dating are more likely to stay a couple.
The Economist reports: 
In a 2013 study researchers from Harvard University and the University of Chicago showed that marriages that started online were less likely to end in break-up and were associated with higher levels of satisfaction than marriages of the same vintage between similar couples who had met offline: the difference was not huge, but it was statistically significant.
Just off the top of my head, I'd say roughly 50% of my friends who have been on recent dates or are currently in relationships met the other individual through Tinder/Online dating. In fact, I know a good handful of people who met online and have continued to have successful relationships, including one of my favorite high school teachers who is now also a father. And yes, I've also been on a Tinder date.
Here are some fun Tinder Facts from Business of Apps (Check Full List)
57 million Tinder users around the world
4.1 million Tinder subscribers pay for a premium Tinder Plus and Tinder Gold
Tinder is used in 190 countries and is available in 40 languages
Tinder was processing one billion swipes per day by late 2014, that has now risen to 1.6 billion
Tinder users go on one million dates per week
Over 50% of active Tinder users are active at 9pm, according to Nielson
18-24 demographic forms the core of the user base
Relationships in Today's Culture
Everyone inherently would like to have a significant other in their life. Countless studies have shown that choosing the right significant other, who aligns with your personal goals and life prospects, is incredibly important in actually achieving success and retiring happy. Dating businesses are trying to capitalize on our innate desire for companionship, combining the all-loving subscription model with technology.
Dating businesses are also riding the wave of big data–analyzing preferences and using statistics to give you the "perfect" match. Is Tinder and Match.com proof that love can be synthesized with statistics? But at the same breadth, these dating companies are at a crossroads. Their conflict of interest is quite apparent: they make money off lonely subscribers, but their business model promises to match you with the perfect partner. Regardless of their ultimate intentions, I'd have to say that the internet dating model seems relatively sustainable, as every year more and more people who own smartphones are turning 18.
Still, a part of me is a hopeless romantic. In a perfect world, I'd meet the person of my dreams sitting across the room at my favorite coffee-tea store, reading my favorite book, and humming a song that's been stuck in my head all week. Would I approach her? Well, in today's culture, let's just see if she's on Tinder first…